Amperor - We provide LED driver / LED power supply
Power Supply Expertise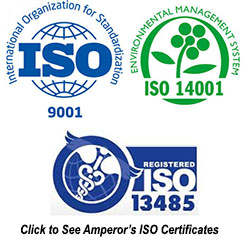 Amperor is one of the most reliable, high quality power supply manufacturer's in the world. From standard products to full custom we can support any power conversion requirement. We are committed to providing our customers innovative and cost effective solutions that insure their success in the high technology marketplace. Working in close partnership with industry leaders like HP, Cisco, Avocent, Siemens, Lexmark, and others, we have developed the technology and products that support a board range of requirements in the data processing, LED, networking, telecom, instrumentation, and computer industries. We have the LED power supply and LED driver families that are suitable to use in the LED signage and LED lighting industries.
Our wholly owned manufacturing facilities are state of the art and have been qualified to the highest ISO standards. Our products are designed with efficiency and reliability as the key elements to provide products that have the lowest cost of ownership possible.
Power Supply Products
New Product Launch
Amperor has announced the launch of its 150W CC mode LED driver - ANP151. Check out the Product Launch Center for the detailed explanations of the unique features of the product.
Technical Articles about Amperor's Power Supply