ANP151 LED Power Supply
Single Channel Constant Current Dimmable Output
Click to See the Product Launch Center for Further Explainations on the Unique Features of ANP151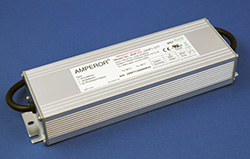 Features and Applications:
One 150W Constant Current Output
Various Output Current Options - Featureing Standard LED Current: 350/700/1000/1400mA
Active PFC and High Efficiency Design
Built-in EMI Filter for Low Noise
Robust Design - Conduction Cooling and Full Output at 60 Degree Celsius
Rugged Case Built for Outdoor / Indoor, Wet, Damp and Dry Applications
Dimmable Output
Built for LED sign and LED Lighting Industries
Extra Features:
Two-Stage Over Temperature Protection Circuitry - for better performance and protection in hot environment.
Optional 12Vaux Output - to drive the system vital signal measurement unit or a cooling fan.
Optional Thermal Monitoring Port - to provide OTP based on the system PCB temperature.
Two Case Dimension Available - fit into different shape light

Regular Rectangular Shape: 8.07" x 2.54" x 1.5"
Square Shape (Available in Q4, 2013): 4.13" x 3.94" x 2.28"

A 100W output version available in Q4, 2013 - a more economic approach for smaller lights.
Specifications:
Rated Input Voltage Range: Accept Both the Domestic 120Vac and the Commercial 277Vac Input
Power Factor: 0.9 min. at 60% load to Full Load, and the Entire Input Voltage Range
Efficiency: Typical 90%+
0-10V Dimming
Various Output Current Options: Please refer to the Below Product List
Over-Voltage, Over-Temperature. Over-Load, Short-Circuitry Protection
Operating Temperature: -30 degree C ~ 60 degree C
Derating Temperature: 50% at +80 degree C
CE, FCC, IP66, UL certified
RoHS Compliant

Product List
| Model Name | Rated Input Voltage | Output Current | Output Voltage | Max. Output Power |
| --- | --- | --- | --- | --- |
| ANP151-440P1-277 | 100-277Vac | 350mA | 220-440V | 154W |
| ANP151-220P1-277 | 100-277Vac | 700mA | 110-220V | 154W |
| ANP151-154P1-277 | 100-277Vac | 1000mA | 80-154V | 154W |
| ANP151-110P1-277 | 100-277Vac | 1400mA | 70-110V | 154W |
| ANP151-75P1-277 | 100-277Vac | 2050mA | 50-75V | 154W |
Cross-Reference Guide:
Meanwell
| Meanwell P/N | Amperor P/N | Notes |
| --- | --- | --- |
| HLG-120H-C350 | ANP151-440P1-277 | 350mA |
| HLG-120H-C700 | ANP151-220P1-277 | 700mA |
| HLG-120H-C1050 | ANP151-154P1-277 | 1050mA |
| HLG-120H-C1400 | ANP151-110P1-277 | 1400mA |
Philips Advance
| Philips P/N | Amperor P/N | Notes |
| --- | --- | --- |
| 929000702202 | ANP151-440P1-277 | 350mA |
| 929000702202 | ANP151-220P1-277 | 700mA |
| 929000705113 | ANP151-440P1-277 | 350mA |
| 929000705113 | ANP151-220P1-277 | 700mA |
| 929000709003 | ANP151-440P1-277 | 350mA |
| 929000709003 | ANP151-220P1-277 | 700mA |
| 929000709003 | ANP151-154P1-277 | 1050mA |
| LEDINTA0350C425DO | ANP151-440P1-277 | 350mA |
| LEDINTA0350C425FO | ANP151-440P1-277 | 350mA |
| LEDINTA0700C210DO | ANP151-220P1-277 | 700mA |
| LEDINTA0700C210FO | ANP151-220P1-277 | 700mA |
| LEDINTA1050C140DO | ANP151-154P1-277 | 1050mA |
| LEDINTA0700C210FO | ANP151-110P1-277 | 1400mA |
| XI150C035V425MPH1 | ANP151-440P1-277 | 350mA |
Inventronics
| Inventronics P/N | Amperor P/N | Notes |
| --- | --- | --- |
| EUD-150S130DT | ANP151-220P1-277 | 700mA |
| EUD-150S260DT | ANP151-75P1-277 | 2050mA |
| EUC-150S070DDA(SDA) | ANP151-220P1-277 | 700mA |
| EUC-150S070DT(ST)A | ANP151-220P1-277 | 700mA |
| EUC-150S105DT(ST)A | ANP151-154P1-277 | 1050mA |
| EUC-150S140DT(ST)A | ANP151-110P1-277 | 1400mA |